Surgical Patient Optimization Collaborative (SPOC)
Purpose
Surgical patient optimization is a multidisciplinary, structured, and personalized prehabilitation program designed to assist patients in preparing for surgery. Prehabilitation before major surgery can lead to a faster recovery, better patient experiences and outcomes, and savings for the health care system. Best practices for surgical prehabilitation focus on both mental and physical aspects of surgery by decreasing presurgical risk factors and increasing a patient's functional capacity.  Surgical Patient Optimization Collaborative (SPOC) improves the experience for surgical patients by:
Using a patient-centered and multidisciplinary approach.
Supporting care providers to implement change processes.
Using preoperative surgical wait times.
Integrating available community resources.
Improving patient outcomes.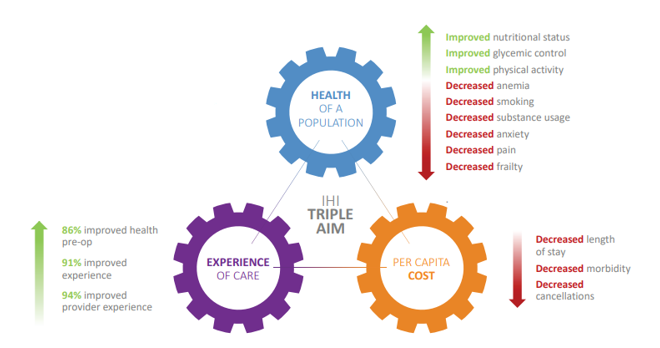 Sizing it Up
SPOC has implemented interactive, multi-disciplinary learning fueled by in-person learning sessions and action periods, designed to support the implementation of prehabilitation processes and components. Teams are supported throughout the period of the collaborative to create a sustainable prehabilitation process in order to be able to continue this work beyond the time period of the collaborative.
Things to Know
BC Surgical Patient Prehabilitation is designed to assist patients to prepare for an elective procedure, so they experience improved outcomes from their surgery. It focuses on both the mental and physical aspects of surgery, therefore decreasing pre-surgical risk factors so that patients can obtain high quality outcomes from their surgery. Components of prehabilitation include: 

Access Support
Applications for the second cohort (2022/23) are now closed. 
Resources
SPOC Initiative Information Sheet

BC Surgical Prehabilitation Toolkit

The BC Surgical Prehabilitation Toolkit offers surgical prehabilitation resources for health care providers.

 

Spread and Sustainability Resource Cards

Part of the BC Surgical Prehabilitation Toolkit, this deck of resource cards can help specialists foster the spread and sustainability of change. The deck includes six critical areas that impact spread and sustainability: support, positive culture, resources, engagement, adoption and desired results (S·P·R·E·A·D)

 

Patient Passport for Surgical Prehabilitation

With the help of a health care provider, patients can use this guide to get involved in their health and health care. In this case, patients can use the passport to prepare for surgery and work towards a better experience and outcomes after surgery.

 

Patient Education Videos

These 13 component videos are available with subtitles in English, Cantonese, Chinese (Traditional), and Punjabi. To select a language, click to watch the video on YouTube and then click on the gear icon (bottom right) to select the subtitle language.

Anemia

Anxiety

Cardiac

Frailty

Glucose Control

Pain

Physical Activity

Nutrition

Sleep Apnea

Smoking Cessation

Social Supports

Substance Use

Weight Loss

In the News & Stories

SPOC Evaluation Report (2021)

SPOC Outcomes Congress 2021

Watch the recording of the webinar from September 23, 2021.

00:00:00 | Welcome
00:05:54 | Dr Ahmer Karimuddin, Prehabilitation and the BC Landscape
00:18:00 | Overview of the Collaborative
00:56:00 | The SPOC Patient Experience
01:08:47 | The SPOC Site Experience- Burnaby Hospital
01:23:28 | Evaluation Findings
01:35:10 | Economic Evaluation Findings
01:52:49 | Next Steps and Thank You
 

SPOC Webinars

Surgical Patient Optimization Collaborative (SPOC) All Team Webinar #7

Surgical Patient Optimization Collaborative (SPOC) All Team Webinar #6

Surgical Patient Optimization Collaborative (SPOC) All Team Webinar #5

 

Surgical Patient Optimization Collaborative (SPOC) All Team Webinar #2
Contact
Geoff Schierbeck, Portfolio Liaison: gschierbeck@doctorsofbc.ca.
An initiative of the Specialist Services Committee, SPOC is also supported by the Shared Care Committee and General Practice Services Committee—three Joint Collaborative Committees that represent a partnership of Doctors of BC and the BC Government.