Spreading Quality Improvement
Purpose
This initiative aims to foster collaborative relationships at the provincial, regional/organizational and local levels resulting in the spread of the quality improvement work funded by SSC.  
Sizing it Up
The Physician Services Committee (PSC) has directed the SSC over the years to spread and scale up successful QI projects that improve patient care. Through various SSC initiatives it was apparent that a number of QI projects generated great value and created opportunity for consideration of spread. In September 2020, SSC prioritized spread as a key initiative and provided financial resources and staff to carry this work forward. Key stakeholders in this initiative include facility-based physicians, health authorities, grassroots community and the SSC.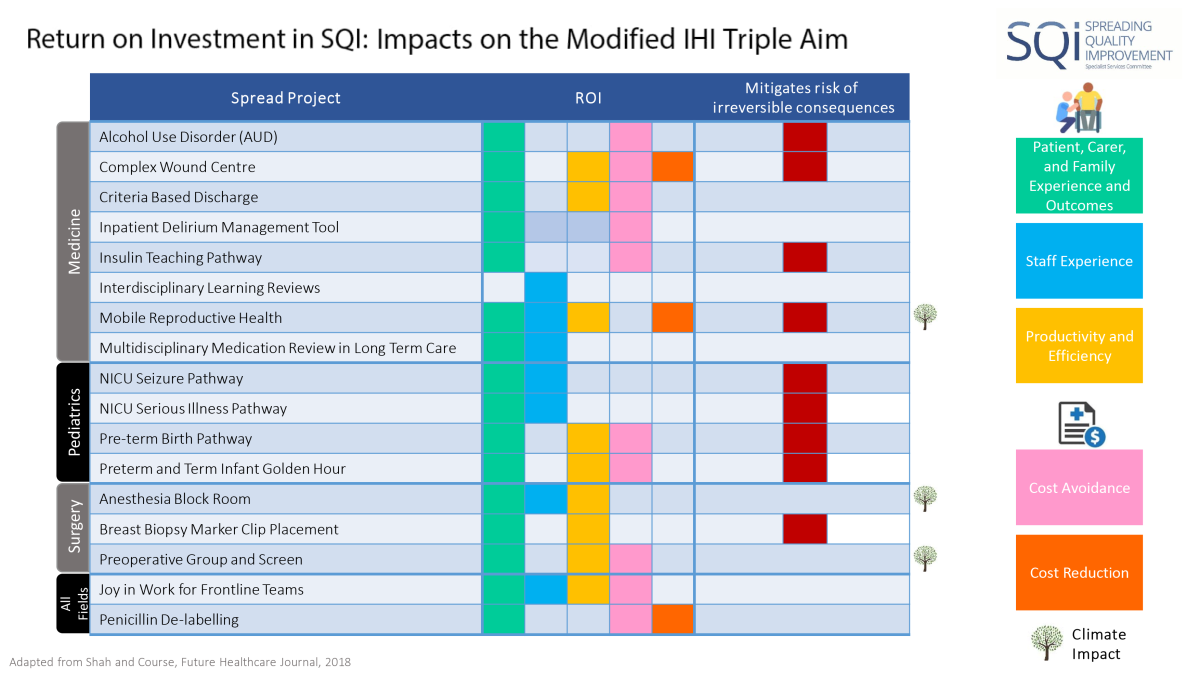 As part of SSC's priority to demonstrate system impact on the modified IHI Triple Aim, SQI has developed the above image to highlight return on investment (ROI) of 17 SQI projects supported across BC. Adapting ROI for the context of health care improvement, the dimensions displayed in this image include project impact on patient, carer, and family experience and outcomes, staff experience, productivity and efficiency, cost avoidance, cost reduction, and climate.
Things to Know
In order to facilitate and enable collaboration, the initiative will utilize existing governance structures, that will transition to provide oversight and leadership to both Physician Quality Improvement and SQI. 
It is recognized that the physician engagement activities and structures are intended to support opportunities for health authorities and doctors to work together on shared QI values and initiatives to improve patient care. The intent is not to duplicate or supersede existing structures or processes under the current Physician Master Agreement, but to enhance local site engagement.
Contact
Aman Hundal, SSC Portfolio Liaison: ahundal@doctorsofbc.ca.