Supporting Facility Engagement
Purpose
As part of the Physician Master Agreement, Facility Engagement is the first initiative of its kind in Canada. Engagement funds are advanced by the SSC for activities and projects that are coordinated by Medical Staff Associations (MSAs) or Physician Society working groups, and led by physicians in collaboration with their colleagues, hospitals or health authorities.
Sizing It Up
Facility Engagement (FE) is a province-wide initiative of the Specialist Services Committee (SSC). Launched in 2016, it aims to strengthen communication, relationships, and collaboration between physicians working in acute care facilities and programs across BC and their health authorities (HAs).
Its goal is to increase meaningful physician involvement in health authority decisions about their work environment and the delivery of patient care. See Overview and FAQs
Things To Know
Many Facility Engagement activities and projects have directly impacted the quality and delivery of patient care. Others have indirectly impacted patient care by increasing workplace satisfaction and strengthening relationships among medical staff and with hospital and health authority colleagues.
Notably, in 2020, the arrival of COVID-19 shone a light on the value of the collective efforts and gains that had been made through Facility Engagement.
Structures, processes and relationships created for the engagement supported MSAs, physicians and health authorities to mobilize quickly to effectively share information, communicate openly, and collaborate on pandemic responses and related projects.
Since its inception to 2021, Facility Engagement has seen significant growth. More than 5,100 physicians working in 74 acute care facilities and programs have participated in more than 2400 engagement activities.
To provide provincial support around these efforts, the Doctors of BC Engagement Partners work directly with MSAs and facility-based physicians to guide effective governance, engagement processes, and strategies.
Read more about the impact and scope of Facility Engagement in the below publication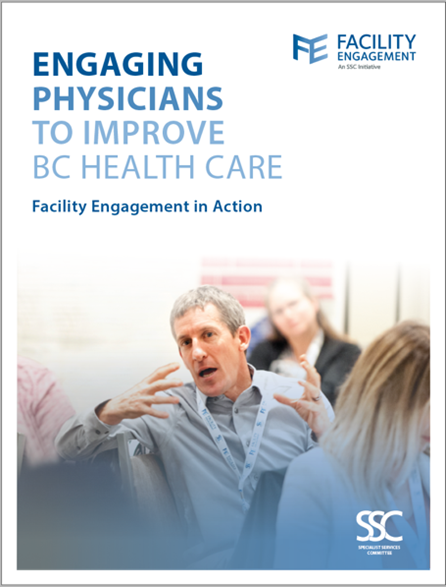 More information: www.facilityengagement.ca or contact engagement@doctorsofbc.ca.
The Facility Engagement RESOURCES features information and tools to support physician societies and health authorities to carry out activities at facilities across BC.