UBC Sauder Physician Leadership Program
Please Join Us for the 10-Year Anniversary Event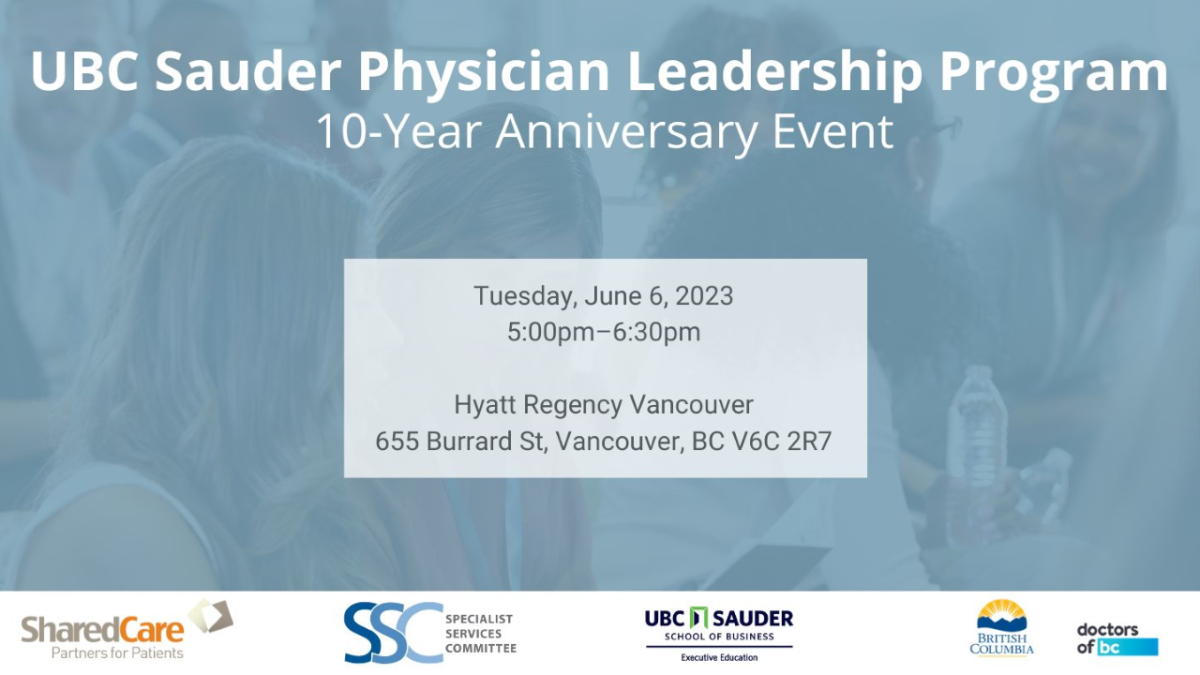 Learn more here
Purpose
To fund specialists in the development of their leadership skills offered by the University of British Columbia's Sauder School of Business.
Participants will acquire meaningful new perspectives on health care leadership, and develop a practical, broad-based set of skills to work at multiple levels of organizations and across multiple health care contexts. The key topics include:
Leading Self
Leading in a Complex Environment
Leading to Implement Quality Operations
Change Initiatives in Health Care
Sizing it Up
Each year the SSC, in partnership with the Shared Care Committee contribute funding towards leadership training scholarships to cover tuition costs for interested specialists and family physicians respectively.
Things to Know
The UBC leadership program is available for specialists who are certificants or fellows of the Royal College of Physicians and Surgeons of Canada who are actively and independently practicing in BC.
This program is designed for physicians who are taking on leadership roles in their health authority, and who wish to augment their medical background with applied, forward-thinking management skills. It is expected that participants will have completed some introductory management and leadership training (ex: PMI) prior to enrolling in this program. Funding is provided for participation in programs with a core and primary focus on leadership.
The program is approximately six months long in total with participants attending 9.5 days of in-person classroom training in Vancouver, BC. In addition to training, a key component of the course is for each physician to apply their training by leading a project or a change initiative. Two cohorts take place annually with each cohort's capacity set at 47 seats.
Not funded
Time/compensation for attendance
Residents and physicians completing a fellowship in BC do not qualify for funding at this time. 
How to Apply
Endorsement is required from the applicant's respective health authority, as seats for each cohort are allocated by health authorities. Below is contact information per health authority: 
Vancouver Coastal Health – Wendy Lo 604.875.4864 wendy.lo@vch.ca
Island Health – Antoinette Picone 250.370.8425 MedStaffDevelopment@viha.ca
Provincial Health Services Authority – Heather Paterson 604.829.2616 heather.paterson@phsa.ca
Providence Health Care – Astrid Levelt 604.806.9370 alevelt@providencehealth.bc.ca
Interior Health – Atsuko Tanahara 250.469.7070 ext. 12173 Atsuko.Tanahara@interiorhealth.ca
Northern Health – Candice Manahan 250.565.2959 candice.manahan@northernhealth.ca
Fraser Health – Jemimah Membreve 236-332-2382 jemimah.membreve@fraserhealth.ca / Joan Williamson joan.williamson@fraserhealth.ca 604-587-4659 
The SSC may also directly allocate up to five seats to specialists involved in leading other system change projects as part of the SSC programs and initiatives.
More information
You can access the UBC Sauder School of Business: Physician Leadership Program e-brochure for more information on the program, the learning journey, and to register.
Contact 
604 638 2838