Physician Leadership Training
Important Notice
If you are considering attending in-person courses or conferences please familiarize yourself with the travel guidelines in this link. Please note that all costs associated with the COVID-19 pandemic such as testing, travel interruptions, subsequent rebooking, and quarantine costs will not be covered by SSC and are the applicant's responsibility. If you have questions or need further information, please contact JCCtraining@doctorsofbc.ca.
Please note: For in-person courses, all COVID-19 protocols at the location of conferences or educational sessions must be strictly adhered to.
Purpose
To support physicians in the development of their leadership and quality improvement skills.
Who's Involved
The Specialist Services Committee (SSC) supports the development of leadership and quality improvement skills for specialist physicians in partnership with the Shared Care Committee (SCC) who supports family doctors.
Available Funding
Maximum funding of up to $10,000 per physician is available each fiscal year (April 1 - March 31) to cover actual tuition fees, accommodation and travel costs. Submission of receipts and proof of completion will be required for reimbursement.
Funding provides support for tuition, travel and accommodation for physicians wishing to access leadership and/or quality improvement training through accredited training organizations. 
Criteria
Specialist Services scholarship funding is available for physicians as certificants or fellows of the Royal College of Physicians and Surgeons of Canada who are actively and independently practicing in BC.  
Funding is provided for participation in programs offered by recognized academic institutions, professional bodies and/or quality improvement organizations with:

Programs with a core leadership or quality improvement focus. Quality improvement can be defined as a proven method that leads to measurable improvement in health care services
Programs where content is relevant to British Columbia
Programs reflecting Canadian context where available

Physicians will be expected to participate in a scholarship program evaluation after course completion.
Endorsement is required from the Health Authority before the scholarship sub-committee can approve it. 
Physicians must apply for scholarship funding before taking the course or conference.
Please note that Health Authority endorsement does not necessarily mean approval, as each application is assessed by the review panel against Scholarship criteria. Not all applications are approved.
Not Funded
Applications received after the course or conference has started.
Clinically-focused CME events or conferences
Time/compensation for attendance  or travel time. 
Reimbursement to organizations that hold or develop custom courses
Repeat participation in a coaching program
Physician multi-source feedback activities (360s) 
Courses where funding responsibility rests elsewhere (i.e., Health Authorities), regardless of whether funding for those activities is considered inadequate. Examples include:

Courses relating to Clinical Services Transformation (CST for VCH, Providence, PHSA) or i-Health (VIHA) for physicians in health authority leadership positions tasked to lead and implement these initiatives (i.e., Cerner).
'Just Culture' and other organizational-focused training (e.g. Saegis courses)

Courses relating to teaching in a university setting, for either medical students or residents. Physicians may approach UBC Faculty of Medicine's Faculty Development department, to enquire about resources or supports.
Courses that are research-focused. Physicians may approach UBC Continuing Professional Development (CPD) to enquire about resources or supports.
Residents and physicians completing a fellowship in BC do not qualify for funding at this time.
The Process – How It Works
Interested physicians download the application form here and submit it to the authorized signatory (e.g. VP Medicine, Department Head, or Administrative Head) at their respective health authority for endorsement.
Endorsed applications are submitted to the JCC Training team for approval. The application must be received before the course start date.
If approved, the applicant will receive a claim form. 
After completing the course , applicants must submit proof of completion, the accurately completed  claim form, and all relevant receipts (i.e., for tuition and any expenses) to the JCC Training team. This must be submitted within a three-month of course completion. 
The physician will then receive a confirmation of payment, as well as a survey link to provide feedback on the course and the scholarship program.
FAQs
Who should I connect with at my Health Authority to get the necessary endorsement for my application?

You can contact your Department Head or other administrative head within your Health Authority to obtain Vice President of Medicine Endorsement.

Why is Health Authority endorsement of my application required in order to attend a leadership course?

The purpose of the leadership training scholarships is to support physicians who wish to participate in leadership activities that have been approved by the Health Authority, such as health system redesign initiatives, or taking on leadership positions within the health authority (i.e., department head). Health Authority endorsement is needed to help identify which physicians are interested in taking on leadership activities, and to help ensure that they are obtaining the appropriate training.

Can the scholarship funding be provided to me prior to participating in the leadership course?

No. Eligible expenses and tuition are not paid until the course or conference has been successfully completed. Submission of receipts and other documentation will be required for reimbursement no later than three months after completion.

Is there a recommended list of courses and conferences?

There is no specific list of recommended courses or conferences, but we have provided a list of popular courses attended by physicians below. You may also wish to ask your department head or the VP of Medicine of your Health Authority for suggestions.

Can scholarship funding be used to fund a coaching program?

Yes, Physicians interested in applying to fund one-on-one coaching should consider the following:

Applicants must submit a coach's bio/CV along with application
The coach should have experience coaching individuals in health care leadership roles
Coach holds the necessary certification as a coach and in leadership  (ex. Masters in Leadership, Professional coaching certifications, etc)
Applicant will be entering into or currently holds leadership position
Coaching quote is available with breakdown of costs
The scholarship supports one application for coaching per physician 
Repeat participation in a coaching program will not be accepted.

Can scholarship funding be used to fund a Master's program?

Yes, Physicians interested in applying to fund a Master's program should consider the following:

The program has a core and primary focus on leadership or quality improvement and meets basic scholarship criteria.
Physician is actively and independently practicing
Confirmation that a physician will be entering into, or holds a leadership position
Physicians must have completed some leadership or quality improvement training previously, preferably within Canada
Preference given, but not limited, to courses with a Canadian context from a Canadian institution
Master's programs are eligible for up to two reimbursements of up to $10,000 each, if the course spans two or more fiscal years.

Do you accept retroactive applications?

No, as of April 1, 2020, we no longer accept retroactive applications. Applications must be received prior to the start date of the course or conference.

What do I need to include with my expense claim?

You must include a completed claim form, proof of completion (e.g. certificate, transcript, or letter), and receipts. If your course takes place outside of Canada, and you have expenses in local currency, please also include a credit card statement that shows the exchange rate.

When should I submit my claim?

Submit your claim after completing the course. Claims must be received within three (3) months of the course end date. Claims received later than this will not be reimbursed.

How long does the process take?

It takes approximately 1-2 weeks to process an application or claim once it has been received. You should receive a response from a member of the JCC Training team within a week of your submission.

What are the limits on funding and expense policies?

Every eligible physician is able to claim up to $10,000 per fiscal year. Only one claim can be made per course, even if the course spans multiple fiscal years (except for Master's programs). Reimbursement will be made in the fiscal year when the training is completed.

Eligible expenses include tuition, meals, accommodation, and travel

Until further notice, due to the COVID-19 pandemic, only tuition costs are eligible for reimbursement.
Click here to see a full breakdown of the scholarship's expense policies
Examples of Funded Courses and Conferences
The following is a list of popular courses attended by the scholarship physicians. We have indicated the complexity level, according to the institution: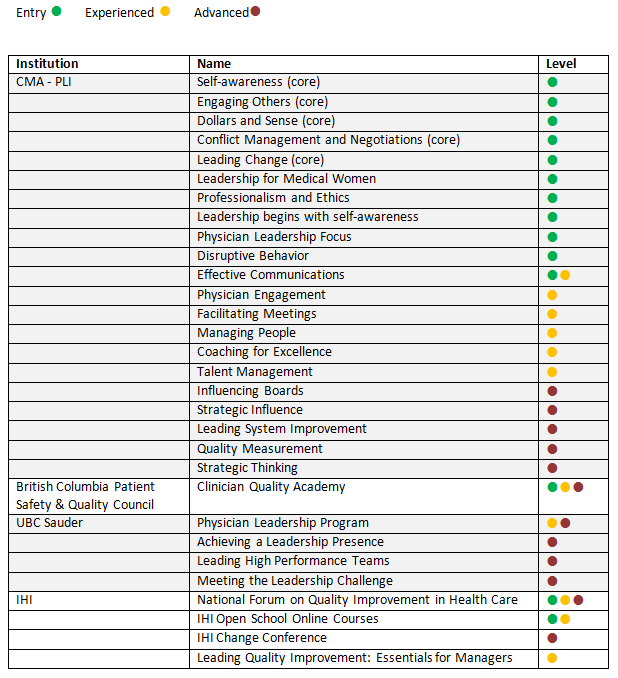 Useful Links
Physician Management Institute (PMI)
Institute for Health Care Improvement (IHI)
BC Patient and Safety Quality Council's Clinician Quality Academy
UBC Sauder Physician Leadership Program
Contacts
VCH Physicians – click here
PHSA Physicians – click here
All other physicians – please contact: JCC Leadership Training:
JCCtraining@doctorsofbc.ca, 604-638-5843
In the News