Physician Quality Improvement Initiative
Purpose
In collaboration with BC health authorities, Physician Quality Improvement (PQI), a flagship initiative of the Specialist Services Committee, works to enhance physician capacity in quality improvement by providing training and hands-on experience through action learning projects, ultimately promoting a culture of learning, openness, and dedication to improving the health care system.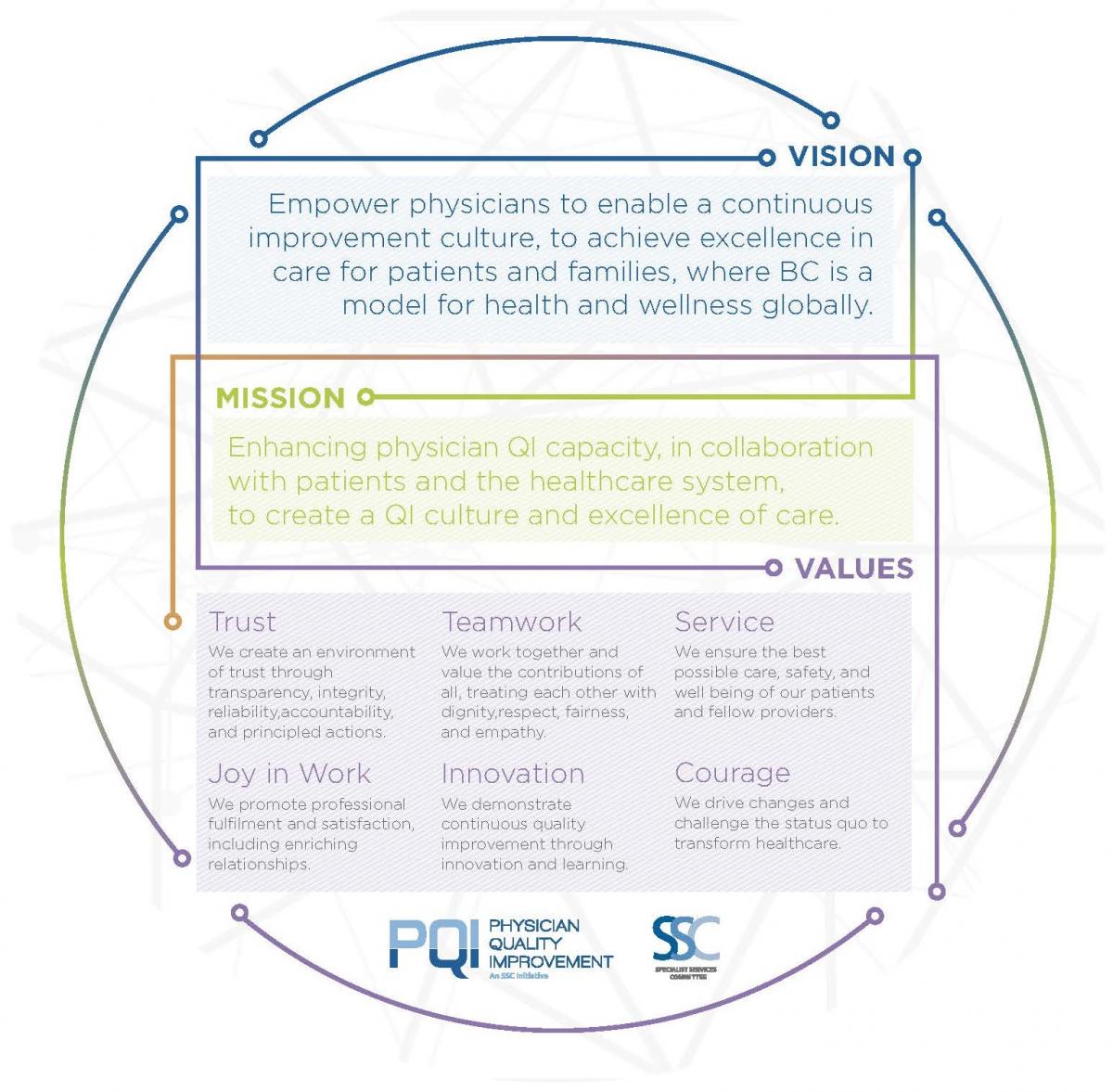 Access Training

In order to provide flexibility to participating physicians in BC, our training is divided into three levels and is available regionally through PQI teams based in six health authorities. Physicians are eligible for funding to participate in each level of training. 

Level 1

PQI Level 1 is comprised of three self-paced online courses provided by the IHI Open School and a special presentation by Dr Don Berwick, a renowned name in the world of quality improvement.

Estimated time to complete training is 4-5 hours.

Physicians are eligible for five hours of JCC sessional payment upon completion of PQI Level 1 Training. 

Level 2

PQI Level 2 provides participants with in-person and/or virtual opportunities to develop fundamental quality improvement skills.

Training is held over 1-2 days; duration may vary slightly between regional offerings.

Physicians are eligible for sessional payment upon completion.

Level 3

PQI Level 3 training provides participants with interactive QI learning opportunities that include in-person and/or virtual lectures, group activities, and workshops.

Physicians are enabled to conduct a QI action learning project throughout the duration of their training, with at-the-elbow support and resources provided by local PQI teams.

Training is held over the course of 10-12 months.

Physicians are eligible for sessional payment throughout the duration of their engagement in Level 3.

I am a community-based physician:

As a provincial initiative, we are working to improve how we engage with physicians who work in the community. To access PQI training and supports as a community-based physician, you are welcome to:

Reach out to a regional PQI team, based on your geographical area (listed below, under "I am a facility-based physician") OR;

Contact the provincial PQI team at quality@doctorsofbc.ca

I am a facility-based physician:

Please contact your local PQI team to access PQI training and supports:

If you are interested in PQI training but are not a physician, please feel free to connect with us at quality@doctorsofbc.ca for more information and opportunities.
Access Resources

Patient Partner Engagement

A priority focus of PQI provincially is to foster collaboration on activities and quality projects to improve patient care. We are committed to promote and actively support meaningful patient, family, and community engagement at all levels of the program.  

PQI staff, physicians, and patient partners have worked together to develop the document Meaningful Patient Partner Engagement - A Guide for Projects and Committees (published October 2022). The guide has been implemented across the PQI and SQI initiatives in order to encourage and uphold clarity and consistency for patient partners and health care partners. Any teams engaging with patient partners are encouraged to use the guide.

Publishing

The process for publishing articles on quality improvement is often different from that of research-based publications. The PQI initiative offers many supports for learners and alumni to help them publish and showcase their work. Read more about our offerings here:
Sharing Success

While the goal of PQI is to increase QI capacity in physicians and teams across our health care system, all action learning projects are developed to support the modified IHI Triple Aim; this supports success and system buy-in throughout the QI process, and leaves physicians and teams with the skills to make system impact beyond their time with PQI.

Below are several published articles highlighting the impacts and outcomes of action learning projects supported by PQI.

Access to Care

Access to Translator (AT&T) project: Interpreter on Wheels during the COVID-19 pandemic (Dr Matthew Kwok, VCH/PHC PQI Alumni)

Dr Joe Costa leads efforts to streamline referral process to musculoskeletal consultation and care.

Implementation of an Emergency Department Virtual Follow-up Care Process: A Quality Improvement Initiative (Dr Diala El-Zammar, FHA PQI Alumni)

Reducing time to X-ray in emergency department ambulatory patients: a quality improvement project (Dr Matthew Kwok, VCH/PHC PQI Alumni)

Reducing emergency department visits in patients with deep vein thrombosis: introducing a standardised outpatient treatment pathway (Dr Tony Wan, VCH/PHC PQI Alumni)

Two new virtual health sites offer subspecialty care to nearly 1/2 of province's children.(2019)

Seniors Care

Medical Orders for Scope of Treatment (2017)

PQI project makes appetizing discoveries for long-term care residents (Dr Eileen Wong, VCH/PHC PQI Alumni)

Optimizing Surgical Care

One-stop shop 'baby hippy clinic' improves outcomes for infants with developmental hip dysplasia (2023)

Surgical Improvements (2017)

Other Areas of Impact

CHAMPioning Quality Through Collaboration (2022)

Falls during inpatient rehabilitation in spinal cord injury, acquired brain injury, and neurologmusculoskeletal disease programs (Dr Andrei Krassioukov, VCH/PHC PQI Alumni)

Implementation of a Structured Morbidity and Mortality Rounds on an Internal Medicine Clinical Teaching Unit: A Quality Improvement Project (Dr Penny Tam, VCH/PHC PQI Alumni)

More Physicians Complete PQI Training (2017)

Physician Quality Improvement Initiative: Improving BC's health care system one project at a time (2019)

PQI Transforming Systems and Physicians (2018)

Reducing Stress in the Emergency Department (2017)

Time is tissue. Want to save millions in wound care? Start Early. A QI Project to expedite referral of high-risk wound care patients to specialized care (Dr John Hwang, FHA PQI Alumni)

To learn more about PQI action learning projects that have been undertaken across the province, visit The Exchange, a provincial database of projects funded by the Specialist Services Committee and the Shared Care Committee.

Do you have a PQI story that you would like to showcase?
Contact quality@doctorsofbc.ca for more information and access to opportunities!
Reports

PQI Impact/Outcome Evaluation (2021): Executive Summary, Full Report, Infographic

Mayo Clinic Visit Report (2017)

 
Videos