Physician Quality Improvement Initiative
Purpose
In collaboration with BC health authorities, Physician Quality Improvement (PQI), a flagship initiative of the Specialist Services Committee, works to enhance physician capacity in quality improvement by providing training and hands-on experience through learning action projects, ultimately promoting a culture of learning, openness, and dedication to improving the health care system.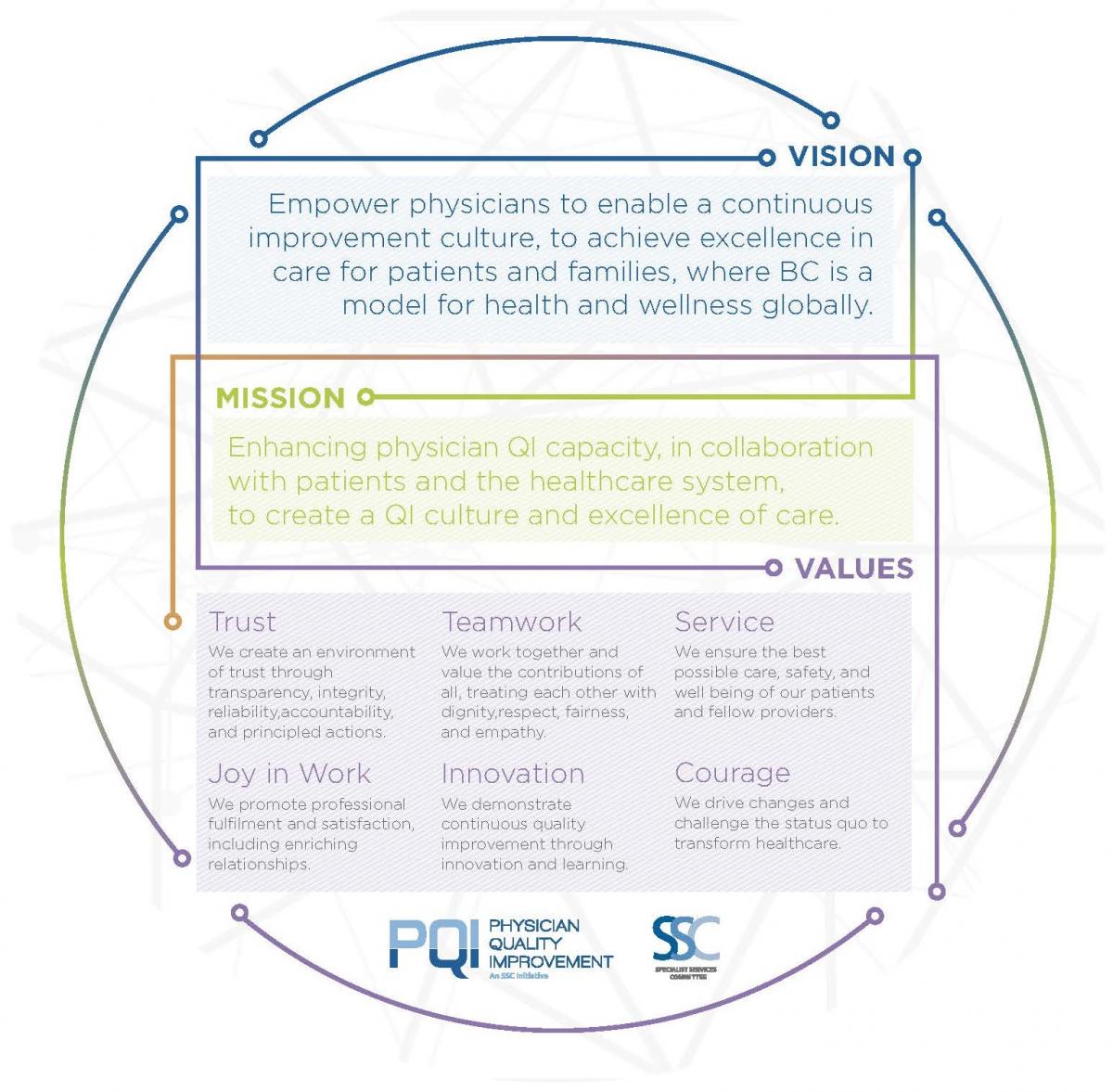 Sizing it Up
Starting in 2015, the PQI initiative has worked collaboratively with physician representatives and six of BC's health authorities to custom design a program that meets the needs of the local region. PQI aspires to address gaps in quality structures relating to physician participation in quality improvement (QI) activities, and embeds dedicated technical staff into the PQI teams regionally. The PQI teams provide quality improvement support to physicians to develop and lead quality improvement initiatives within their practice settings. 
Since its inception, PQI's scope has been to align with the health authority's overall quality strategy, but it is distinct from its quality assurance mandate. As such, physicians are empowered to use quality improvement methodologies to address healthcare-related "pebbles in their shoes", ultimately impacting the Institute of Healthcare Improvement (IHI) Triple Aim and enhancing healthcare delivery in BC. As of August 2021, over 1,100 physicians have participated in PQI training. In recent post-survey data collected from physicians who participated in PQI Level 3 training, 80% reported that PQI provided them with necessary tools, infrastructure, and skills to lead QI projects, and 90% shared that they were immediately able to apply what they learned to their practice.
To learn more about specific physician-led learning action projects that have been undertaken across the province, visit The Exchange, a provincial database of projects funded by the Specialist Services Committee and the Shared Care Committee.
Things to Know
In order to provide flexibility to participating physicians in BC, our training is divided into three levels and is available regionally through local health authorities. Physicians are eligible for funding to participate in each level of training. 
PQI Level 1 training is comprised of three self-paced online courses provided by the IHI and a special presentation by Dr Don Berwick, a renowned name in the world of quality improvement. Physicians are eligible for five hours of JCC sessional payment upon completion of PQI Level 1 Training. Download an information sheet.
PQI Level 2 training provides physicians with in-person and/or virtual opportunities to develop introductory skills in quality improvement, and is usually held over 1-2 days.
PQI Level 3 training provides physicians with interactive QI learning opportunities that include in-person and/or virtual lectures, group activities, and workshops, usually over the course of 10-12 months. Paired with comprehensive support and resources from local PQI teams, physicians are enabled to conduct their own QI learning action project.
Access Support
Contact
Asia Hollingsworth, PQI Manager, ahollingsworth@doctorsofbc.ca.
In the News & Stories

One-stop shop 'baby hippy clinic' improves outcomes for infants with developmental hip dysplasia

Reports

PQI Impact/Outcome Evaluation (2021): Executive Summary, Full Report, Infographic

Videos