Teams are transforming specialist care in BC
Posted on Jun 21, 2023
SSC's Specialist Team Care Collaborative (STCC) that started in January 2023 is already helping to significantly change the lives of patients, families, and physicians for the better.
As many specialists struggle with burn-out and a future of 'just working harder' to deal with increased demands – the STCC offers a new way of providing care that has not been readily available to community-based practices.
Through the initiative currently underway, 11 specialist-led teams representing nine different specialties in five BC health regions, are participating in the STCC.
The STCC is being led by three co-chairs: Rheumatologist Dr Michelle Teo and Pediatric Rheumatologist Dr Tommy Gerschman, and Garth Vatkin of SSC's Quality Impact Engagement & Quality Improvement. It was launched in response to extensive engagement among specialists in 2022, who wished to pursue team care delivery in their community practices.
Dr Teo has been successfully running a model of team care for the past ten years. In doing so, she increased her patient capacity, while developing an efficient and effective business model that maintains a high standard of patient care, delivers greater satisfaction for her staff, more revenue for her practice and a work-life balance for her.
Dr Teo explains the concept. "Team care involves having appropriate allied health professionals (AHPs) and/or nurses who are assigned responsibilities for the things that a doctor doesn't need to do."
"Doctors went to medical school to learn three things, diagnose, treat, and problem-solve– this should only be done by a doctor," she notes. "How information is gathered for the doctor to carry out these three things is where the AHP/nurse comes in."
Introducing team care to a specialist practice
The STCC provides funding to a community-based specialist practice for 80 days to support the hiring of appropriate AHPs/nurses, who are then trained and integrated into the practice.
As a huge change-management initiative, the STCC has developed many supports and resources to succeed, available on the STCC website. Each speciality is different, so the concept is adaptable and flexible. Program supports include a boot camp for HR processes, face-to- face learning sessions for the entire team to foster sharing.   
Mentorship as the secret sauce­­­
There is also a comprehensive mentoring component to STCC – because each member of the team will have to think differently about how they work. The program provides mentorship based on the physician and team's situation to help them navigate challenges and empower with guidance to arrive at solutions that are best for the individual team. 
Dr Julian Sernik is an orthopedic surgeon at an STCC pilot site in Vernon. With a Kinesiologist and Licensed Practical Nurse supporting him in a team care model, he can now see twice as many patients.  
"The secret sauce is the mentorship that comes with STCC," he says.
 "The hard part is not the operational side. It's the human side – how to be a team leader, create high-functioning teams, build trust and a safe environment for everyone. It's thinking about 'our team', not 'me and my team'."
Moving success forward
"The SSC's STCC supports have been crucial in supporting and nurturing new champions for community-based specialist care," says co-lead Dr Tommy Gerschman.
"Through these experiences, specialists in the community are increasingly being recognized as a source of leadership and innovation."
Dr Gerschman notes that the STCC has supported one model that has resonated with a group of specialists, and there are many more opportunities and strategies for team care in specialists' offices.
"Our hope is that in the future we will be able to help more specialists find and develop novel approaches to specialist team care to allow them to better look after their patients, shorten their waitlists, and reduce burnout," he says.
Dr Teo reflects on the need for long lasting change to come from the bottom up. She says that while a new approach can feel threatening, most doctors are looking for an alternative to the status quo. Early adopters will help to move the concept along, when others learn of the clear benefits of seeing more patients, delivering high quality care, while enjoying a healthy work/life balance.
"The future hope is every patient is treated by a team of appropriate professionals, and not just a solo doctor carrying the weight."
For more information and resources, visit the STCC initiative on the SSC website.
STCC Co-lead Dr Michelle Teo, co-lead of the STCC with her clinical team, who also provide mentorship to other STCC participants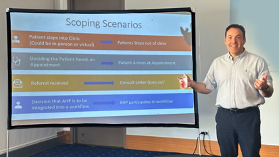 STCC Co-lead Dr Tommy Gerschman