Patient Safety Drives PQI Project
Posted on Oct 1, 2019
When Dr James Reid, Head of Emergency Medicine at Kelowna General Hospital (KGH), participated in Physician Quality Initiative (PQI) training, he didn't know it would be the catalyst to make him a leader in change within Interior Health (IH). As part of the training, Dr Reid began looking at ways to reduce risk and increase patient safety during follow ups on emergency department (ED) patients' lab tests and x-rays. His project led to innovative solutions and improved processes for a complex issue.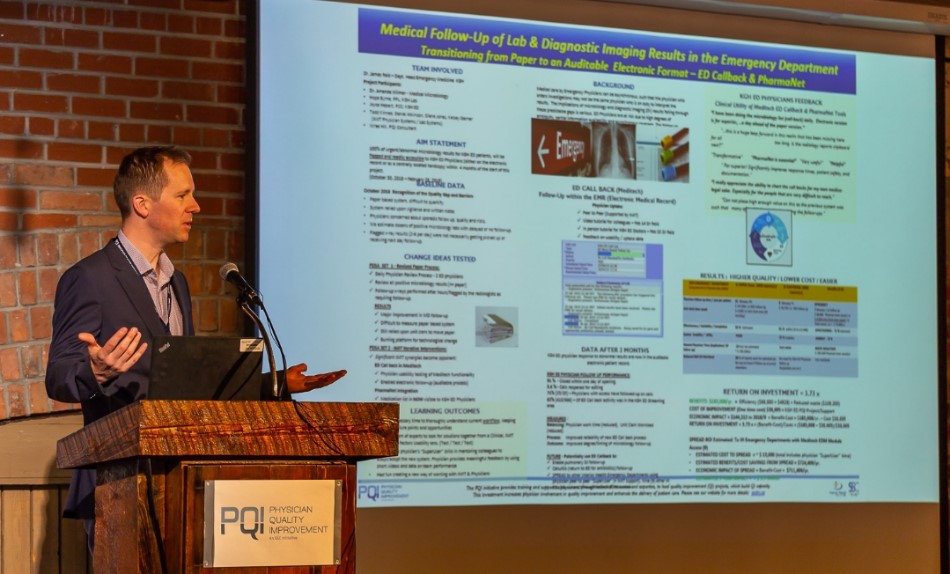 In the ED, patient care is not concurrent. Usually one ED doctor orders a test, while another  may review the results and follow-up. These paper-based reports were previously often put in doctors' mailboxes among other mail – sometimes resulting in delays or lack of follow up. Dr Reid knew there were gaps in patient follow ups and his mission was to find the best way to address them.
Starting with a baseline measure of the current paper-based system, Dr Reid and his team, including the microbiology department, KGH labs and ED doctors identified the need to assign ED doctors with specific reports so they would be the single points of accountability for appropriate follow up on lab tests and x-rays. In addition, a daily physician review process was implemented.
Soon after however, Dr Reid and his team realized that the paper-based system was still problematic because it was hard to measure and was inefficient and time consuming.
As a solution, Dr Reid and his team, in collaboration with IH's IMIT department, evolved the project to implement the ED call back within the Meditech system. ED call back was further integrated with PharmaNet, which allows doctors to review their ED patients' current and previous medications.   
"It was great to work with IT and co-create a system viewed solely through the physician's lens." said Dr Reid.
Dr Reid is now the super- user of the ED call back system and has made a tutorial for colleagues with support from IT. Also with IT's support, he held a computer lab using the system for about half of the ED doctors through the KGH's Medical Staff Association (MSA). 
As a result, ED doctors have quickly adopted the system and appreciated that it was not onerous to use. In fact, one ED doctor stated, "the new system is far superior. It significantly improves response times, patient safety, and documentation."
The impact was not measured simply by financial performance, although improvement costs was a factor, but more importantly there was a social return on investment, such as improved physician engagement and quality improvement, which resulted in enhanced patient safety and reduced risks of inconsistent follow-ups.
"The PQI program has enabled physician leadership to take on a new relevance. This project highlighted the value in looking for modern solutions for old problems utilizing the technology available through IMIT and Meditech. The result has been an overwhelming sense of simplicity and quality in how we deal with abnormal microbiology results in a much more efficient way."
Next Steps
Dr Reid continues to lead change. He is now committed to working with IT to hold computer labs across IH with ED physicians to help train them on the ED Call Back system. Support for this engagement effort comes from IH's ED network and MSAs supported by SSC's Facility Engagement. Dr Reid and Daniel (from IMIT) will begin their road show at the Royal Inland Hospital in the fall 2019.
About PQI
PQI is a Specialist Services Committee initiative that helps train physicians to create and implement quality improvement projects in health care within their sphere of influence. PQI partners with six health authorities and so far has trained over 590 physicians and supported over 180 physician-led QI projects.  Learn more here.