Quality improvement projects lead to enhanced health care outcomes
Posted on Jul 8, 2022
Equity, innovation, and teamwork were among the many themes that emerged at the Physician-Led Quality Improvement (PLQI) Cohort 5 graduation event last month.
The physicians were joined by senior medical and operational leaders from Vancouver Coastal Health (VCH) and Providence Health Care (PHC) as they celebrated another successful completion of quality improvement (QI) training and learning action projects.
Among them was Dr Kelly Mayson, PLQI Chair and host of the event, which took place at the Arbutus Club in Vancouver. She applauded the physicians' hard work and ingenuity, and their ability to effect positive change in their areas of work.
"Tonight we're here to celebrate each of the physicians who, upon discovering problems, asked themselves, 'what could be done to make this better,' and then went out and did it," said Dr. Mayson.
Other speakers included Ryan Murray, Co-Chair, Specialist Services Committee (SSC), Dr Nardia Strydom, Regional Department Head, Family Medicine, VCH and PHC, and Deborah Baker, VCH Board Member 
(pictured to the right).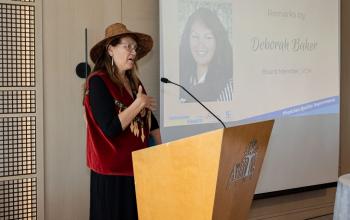 Deborah, who is also a full-time member of the Squamish Nation Chiefs and Council, praised the PLQI physicians for their accomplishments.
"I really appreciate all of the phenomenal quality improvement work going on," said Deborah. "Much like the health-care industry - Indigenous people and culture are forever evolving, and I look forward to what the future holds as we continue to work together."
The projects conducted by PLQI physicians occurred in various regions across VCH and PHC, in both acute and community settings, and ranged widely across a variety of quality and health dimensions. 
Dr Jeremy Ho (pictured left), whose project addressed gaps in patient data collection – thus reducing appointment booking delays – at Richmond Cancer Clinic, said the experience has helped improve his team's morale. 
"The PLQI project has really helped to reduce issues of burnout, and not just for myself, but for my entire team," said Dr Ho. "There has been an overall positive shift in our workplace culture, where our team now feels empowered to tackle other quality issues." 
Another graduate, Dr Bonnie Law, completed a project which reduced readmissions between Holy Family Hospital rehabilitation and emergency departments.
Dr Law said the program provides the resources necessary to make a real impact in patient care. 
"We're given the opportunity to improve and to change," said Dr Law. "The PLQI program serves as an avenue to address quality problems, and in turn, enhances both the health-care provider and patient experience."
She said small changes are important first steps to initiate further QI initiatives, and to positively transform health-care practices.
Embracing diversity, equity and inclusion in quality improvement settings
The final speaker was Dr Joy Masuhara, VCH Regional Medical Director, Diversity, Equity, and Inclusion (DEI) and PLQI alumnus, who stressed the importance of including DEI markers in QI projects. She said health inequities are disproportionately present among Indigenous communities, and highlighted the potential for QI projects in this area.
"As I continue to learn about equity, and, inequity, within our health-care system – the need for further attention becomes increasingly evident," said Dr Masuhara. "I strongly believe that the principles of diversity, equity, and inclusion need to inform our approach to quality improvement to achieve better health outcomes."
Learn more about PLQI, past QI projects and how to apply for QI training.
PLQI is funded in through the Specialist Services Committee, a partnership of Doctors of BC and the
Government of British Columbia. 
Original article posted on June 30, 2022 by Vancouver Coastal Health and written by Darren Piper.