Passion project saves lives of those in respiratory crisis
Posted on May 10, 2021
When Dr Hussein Kanji decided to develop expertise in the Extra Corporeal Membrane Oxygenation machine -- or ECMO -- as his "passion project", he had no way of knowing that it could be a lifeline during a pandemic.
Invented in the 1970s, ECMO has long been a machine of last resort, pressed into service when patients with severe respiratory conditions can no longer tolerate the force of the ventilator pushing oxygen into their lungs. ECMO temporarily supports the patient, essentially doing the work of the lungs by taking the blood out of their body, oxygenating it through a pump, and sending it back in. In ordinary times at VGH, it's used for 30-40 patients annually, many of whom are transplant patients needing vital support while they wait for an organ to become available.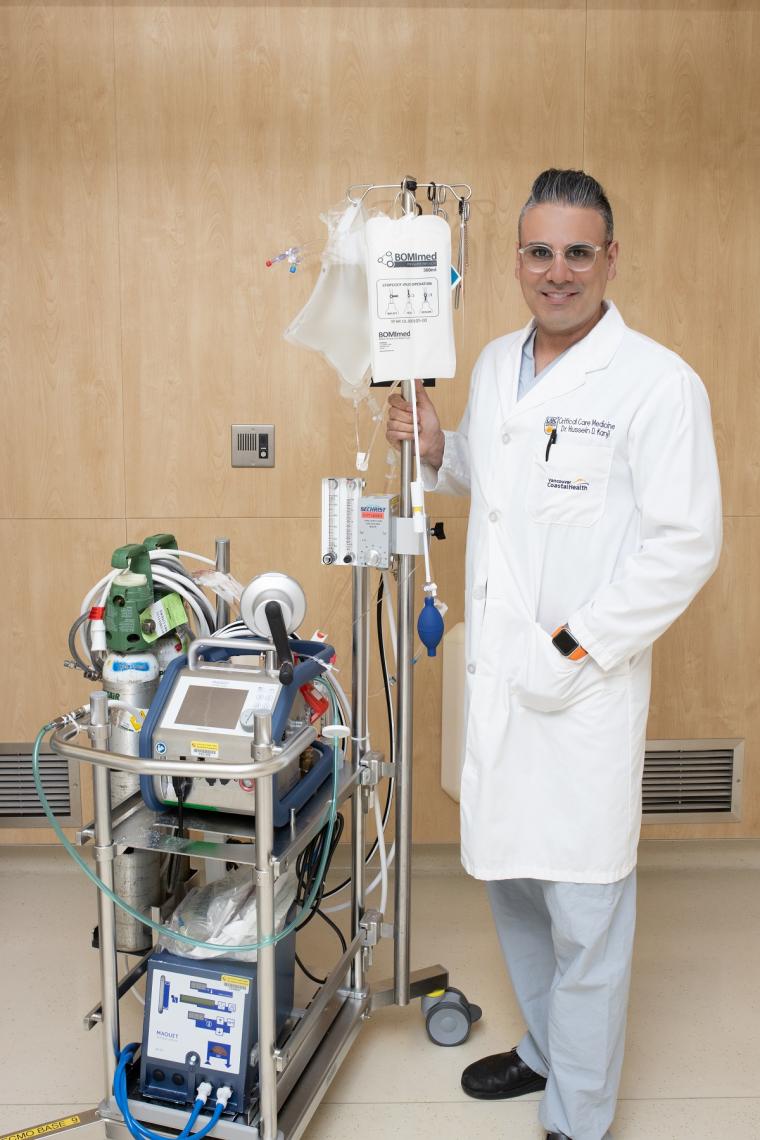 It was during those ordinary times that the VGH intensivist made it his mission to learn about and promote the use of ECMO for patients with lung disease, not just at the hospital where he works, but throughout BC.
"A few people were doing it in a small way, and I could see potential for this as a growing field," says Dr Kanji, now the hospital's Medical Director of the High Acuity Unit. "It became a passion that I was excited to explore.
It started in 2013, when Kanji was lucky to be able to go to England's Glenfield Hospital –a centre with probably the highest use of ECMO use in the world where they had just completed the first double-blind randomized trial in the technology. "I was able to learn from the best at that time and bring that back."
Kanji was also impressed by something else that the U.K. had pioneered -- a national network that allowed patients with Advanced Respiratory Distress Syndrome (ARDS) access to ECMO, no matter where they lived. That inspired him to spearhead a Specialist Services Committee funded Physician Quality Improvement project in 2018 in the "hub and spoke" model. Now five BC hospitals have ECMO machines and staff that are able to treat patients on-site or stabilize them and send them to VGH.
ECMO and COVID-19
At VGH, the overall survival rate of patients using ECMO – most of whom would have died without it -- averages 70 per cent. With the start of the pandemic, there was the chance to offer ECMO as a lifeline to COVID-19 patients when the ventilator was no longer an option. Now ECMO is actively being used with several patients on a weekly basis and "we are seeing better and better results in the sickest of COVID-19 patients" says Kanji.
Dr Kanji, a native of Calgary with degrees from McGill, the University of Calgary and the University of Alberta and a research fellowship from the Massachusetts Institute of Technology (MIT), notes that ECMO is not a simple solution. "It's very nuanced and complicated in a lot of ways."
The machine's use requires a multi-faceted team, including ICU doctors with ECMO expertise, consulting perfusionists, bedside nurses, respiratory therapists, and physiotherapists. The nurse specialist model, where trained nurse specialists manage most elements of the day-to-day workings of the machine, has made this effort more feasible.
As a result of these efforts, VGH is the only hospital in Canada to have achieved gold level status with the Extracorporeal Life Support Organization (ELSO). And this spring, Dr Kanji will receive the Gold Apple in the Collaborative Solutions category from the 2020 BC Health Care Awards.
"I'm really proud of where the program lies," says Dr Kanji, adding, "Nothing like this gets built without so many people helping on so many different levels."
Beyond ECMO, the sports-loving father of two is delighted by the links forged during the pandemic between the province's previously siloed ICUs.
"We created a critical care network, and together we are providing enhanced ICU care to all British Columbians at a time when it is needed the most."
Contact: 
Dr Hussein Kanji
View Email Address
https://bcpsqc.ca/improve-care/critical-care/