Teamwork is delivering powerful changes for newborns
Posted on Aug 28, 2020
Dr Sandesh Shivananda, Medical Director at the BC Women's Hospital Neonatal program has seen many significant changes in quality of care and teamwork since moving in the new Teck Acute Care Centre in 2017 – a centre with 70 beds that provides birth and post-birth care for mothers and new born babies.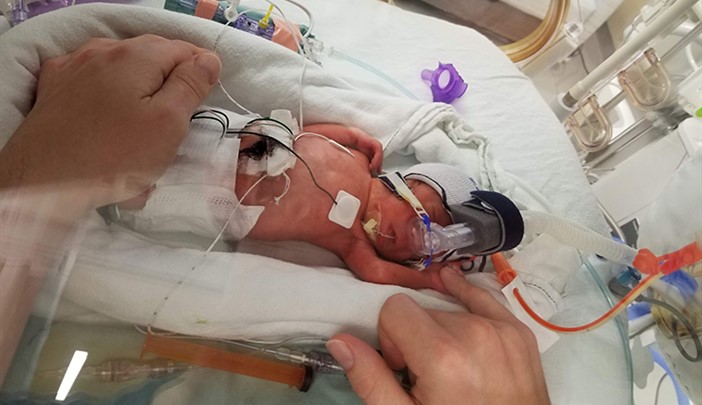 Many of the high-impact changes are a result of a two-year process of engaging all stakeholders and establishing effective protocols for the facility. Dr Shivananda noted the importance of understanding and touching on the emotions of all stakeholders – "Once they got the rationale, then most solutions were found." he said.
To help him with this engagement work, Dr Shivananda applied for and received funding from the Health System Redesign (HSR) program. This program is supported by three Joint Collaborative Committees of Doctors of BC and the Ministry of Health, and is administered through the Specialist Services Committee (SSC). HSR provides each health authority with funding of $1.2M (2019-22) to help implement system change and improve health care outcomes.
Dr Shivananda, physician lead for this funding, and his team started with five high-impact initiatives that focused on patients and families. One of these initiatives was stabilization of sick newborns in the delivery room, which is unique in North America. It allows for skin-to-skin bonding in the first hour of a newborn's life, even if a baby needs medical intervention. The ability to bond in this way makes it healthier for the newborns to transition from the womb. The other initiatives included patient flow optimization, enhanced recovery after surgery, small baby care bundle pathway, neonatal early warning signs recognition and executing timely interventions.
Soon after initiating the projects Dr Shivananda learned that his background in quality improvement work was significantly helpful, but not complete. "I didn't have the knowledge around what true engagement meant and why a high level of engagement leads to success. I had to read a lot of engagement psychology literature to understand what really motivates people," he said.
Through this work he was able to engage 31 subspecialty physicians to collaborate through a number of activities and implement the projects. 51 additional subspecialists from neonatology, pediatrics, anesthesiology, respirology, plastic surgery, pediatric critical care and surgery were also involved in various capacities including grand rounds, workshops, hands-on simulation etc. In addition, multiple communication, implementation and sustainability materials were developed. These materials included resources and clinical guidelines to help doctors in various settings to treat babies with unique conditions who in the past would have died during childbirth.
After working out the solutions and completing the work, Dr Shivananda and his team conducted a two-day workshop to get all physicians on board with the quality improvement initiative and to ensure support and sustainability.
This project has positively affected other physicians at Children's and Women's Hospital, who are reaching out to their colleagues to learn more about the processes in order to develop their own quality improvement projects. Dr Horacio Osiovich Division Head of Neonatology offers his perspective, "we often work in silos, so this work allowed us to really come together with many other specialties and areas to gather different views and understand the diversity of needs."
All of this work has sparked the interest of many physicians and stakeholders as presentations have been made at a number of national conferences.
More recently, Dr Shivananda received new HSR funding to create a BC Neonatal Quality Improvement Collaborative that will help identify and prioritize new Best Practices in neonatal care in a more timely and cohesive way across the province.
Find out more information about Health System Redesign in your health authority.