Spotlight on a Specialist: Dr Ahmer Karimuddin
Posted on Oct 3, 2023
While Dr Ahmer Karimuddin is a specialist in general and colorectal surgery, he's also an outstanding leader.  In January 2024, he'll bring his many years of patient care and leadership experience to the role of President of Doctors of BC.
"When I thought about all the changes that we've been through in the last couple of years, I really saw a place where I could make a difference," he says.
Taking on leadership roles has just been part of what he does. Even before he finished his training, Dr Karimuddin was the President of the Professional Association of Interns and Residents of Saskatchewan.
Once he began building his practice in British Columbia, Dr Karimuddin also led work to influence physicians' work environments. He was the President of General Surgeons of BC, and through the years has held and continues to be involved in a number of Doctors of BC's committees and working groups.
He has also been a member of the Doctors of BC's Tariff Committee, a member of the Diversity and Inclusions Advisory Working Group and a past member of the Provincial Surgical Executive Committee. 
Dr Karimuddin was also the surgical lead for Enhanced Recovery after Surgery (ERAS) for five years, implementing ERAS in 17 BC hospitals.
Influence through active involvement
Dr Karimuddin believes in influencing through involvement.
"I realized early on that most of the things influencing the world that I want to work in were outside my control. And the only way I can help influence things, and for those who do my kind of work to be able to get their perspective across, is to be in the room where it happens. You have to be in the room where decisions are made."
Dr Karimuddin intends to be in many rooms during his tenure as President because he has a number of items on his agenda.
He will be working with Doctors of BC to develop their new Strategic Plan to guide the association in the coming years. He wants to ensure the new family practice model stabilizes how primary care is delivered.
He wants to do some meaningful work for physicians who have privileges and work in hospitals to ensure physicians' voices are amplified in that space.  
 "I want to help create an environment where physicians in hospitals feel it is collaborative and that their perspectives on patient care are respected. At the end of the day, physicians are happiest when we are able to give our patients the best possible care," he says.
As a father of four children: two teens and two pre-teens Dr Karimuddin notes, "I realized I'm employing negotiating and collaborating skills I've learned through my work with my children – it keeps me sharp."
Doctors of BC is looking forward to the continued participation of Dr Karimuddin and the sharing of his years of knowledge to navigate the changing landscape of health care in BC.
Support for physician well-being
One thing Dr Karimuddin really wants to emphasize with all his fellow physicians is the importance of not feeling alone. Particularly when the last several years have resulted in increased burnout and stretched resources.
 "That's an important lesson I learned, getting involved and sharing and exchanging passions and knowledge made me feel less alone," he notes.
"Doctors of BC have so many resources to help support our physicians – if you're not happy with your work life situation, I found that getting involved, sharing your perspective, helping to influence outcomes actually re-energizes and re-invigorates."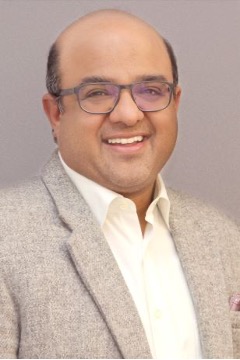 Dr Ahmer Karimuddin