Sauder Physician Leadership Program Celebrates 10 Years of Supporting Physician Leadership
Posted on Jun 21, 2023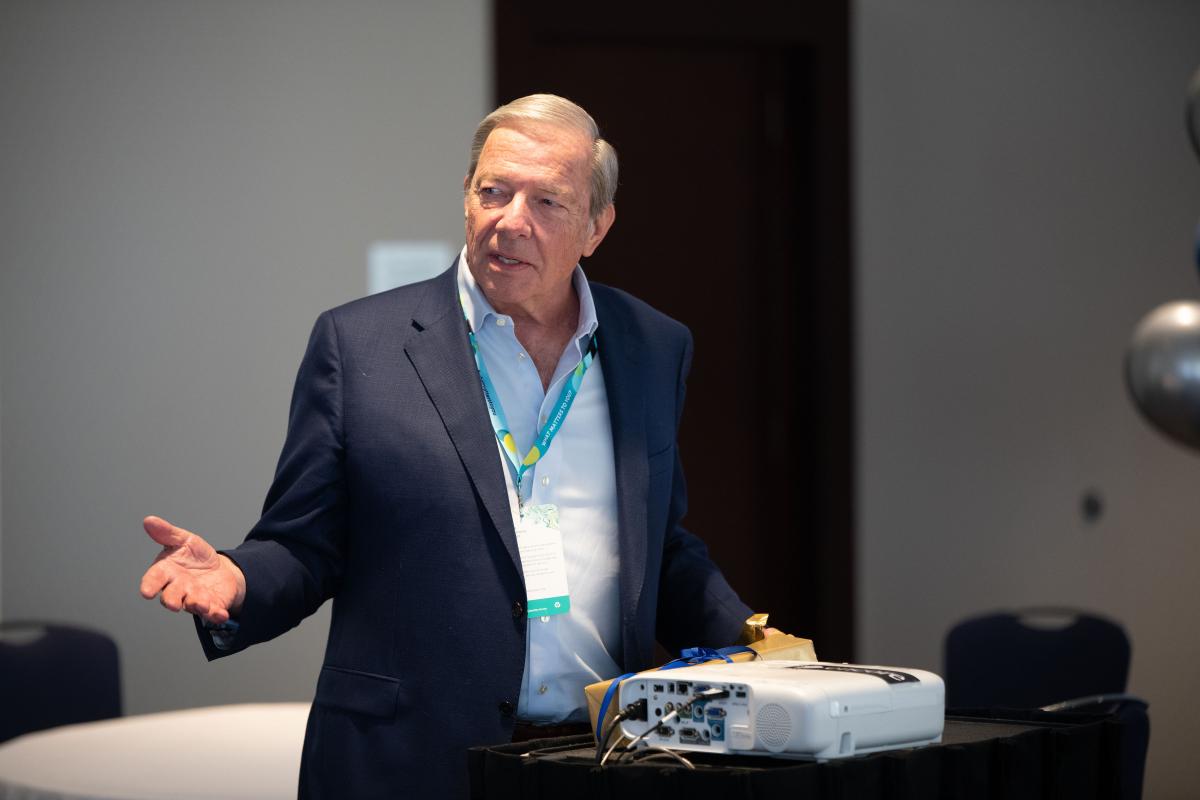 The UBC-Sauder Physician Leadership Program (PLP) 10-year anniversary celebration held June 6th, 2023 honored a decade of commitment to cultivating community and leadership among physicians.
The innovative program delivers the leadership knowledge, behaviours, and skills that senior physicians need to effectively engage in the planning, delivery, and transformation of the health care system.  Its interdisciplinary outlook ensures a system-wide, yet well-integrated view of both the medical and management aspects required for excellence in health care leadership.
Background
The Sauder PLP was created in 2013 through a collaboration of BC's health authorities, the BC Patient Safety Quality Council (BCPSQC), UBC's Sauder School of Business and the UBC Faculty of Medicine, and Doctors of BC. The Specialist Services Committee and Shared Care support physicians to participate through funding for tuition, travel, and accommodation.
Through the program, participants acquire meaningful new perspectives on health care leadership, and develop a practical, broad-based set of skills to work up and down multiple levels of organizations and across multiple health care contexts.
They learn to shift from the traditional, autonomous culture to a mindset of teamwork, shared decision making, collaborative communication, and inspirational leadership.
Upon completion of the 10-day program, participants are awarded a Physician Leadership Certificate from the Sauder School of Business and receive Continuing Medical Education (CME) credits.  
To date, 19 cohorts and 700 physicians have graduated from the program with cohort 20 set to begin in fall 2023.
Looking back, looking forward
The June anniversary event provided an opportunity for alumni to recognize and celebrate Dr Doug Cochrane, a key founding member of the Sauder program and former chair of the BCPSQC, and chair of the Board of Directors of Interior Health.  
Sauder PLP graduate Dr Lawrence Yang highlighted Dr Cochrane's contributions to the program, which include mentoring participants using an empathetic, patient-centric approach, in areas of burnout, priority-setting, and physician vulnerabilities.
The event also served as an opportunity to acknowledge the accomplishments of the Sauder PLP alumni. Sixty-seven per cent of graduates' have held leadership positions at various levels, spanning local to national to international settings, inclusive of various levels of involvement with Doctors of BC. 
Along with celebrating successes, physicians shared challenges encountered on their leadership journey. Common issues include the struggle of balancing patient workload with the demands of a leadership role, dealing with human and health system resource challenges, and navigating complex administrative structures.
The program alumni stressed the importance of relationship building, a vital skill in the world of health care leadership. They articulated the need for a culture shift in health care leadership that embraces creative leadership and places greater emphasis on quality improvement education.
The alumni also credited the Sauder program for providing them with essential tools to navigate the unprecedented challenges posed by the COVID-19 pandemic by citing skills such as resilience, flexibility, and creative thinking.
Looking ahead, the alumni expressed a desire for integrated programs that provide a safe and supportive environment for discussing pressing issues. They also recognized the importance of personal leadership style, advocating for a leadership approach that aligns with one's personal values. They also noted the need for strong administrative support to manage extra details and tasks when transitioning into leadership positions.
"What comes next?" was a key theme of conversations, highlighting the need for ongoing collaboration and support among Sauder graduates.
The event concluded with alumni reaffirming a commitment to explore the future directions of the Sauder Physician Leadership Program, and willingness to strategize on how to further enhance leadership development for BC physicians