PQI celebrates five years of fostering continuous learning within the physician community in Vancouver Coastal & Providence Health
Posted on Mar 1, 2022
Graduates and alumni from the Physician Quality Improvement (PQI) program in Vancouver Coastal Health (VCH) and Providence Health Care (PHC) came together on December 8, 2021 for a momentous five-year celebration event at the Sheraton Wall Center in Vancouver. Senior operational and medical leaders from across VCH and PHC also attended the evening of shared recognition.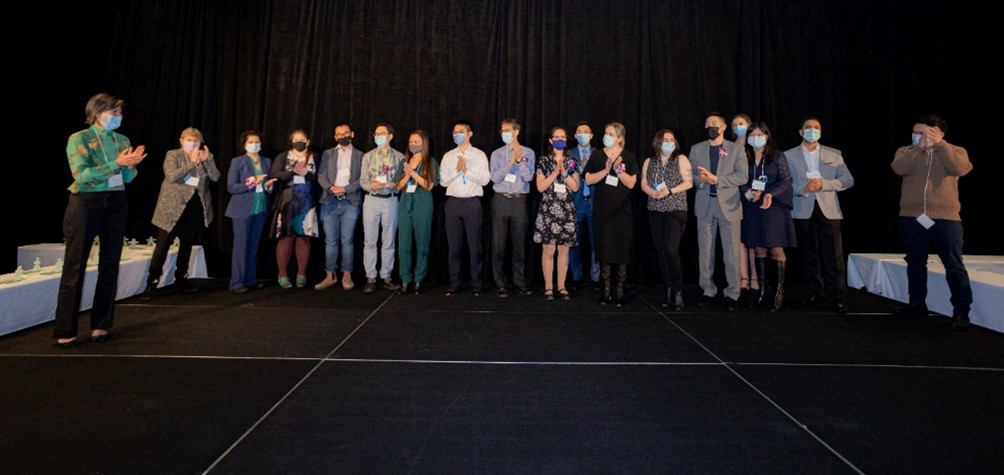 The event celebrated graduation of 54 participants constituting the third and fourth PQI cohorts who, amidst the pandemic, spent 10 months learning quality improvement tools and leading projects that affect positive change in the real-world scenarios in the health care system.
"I am a firm believer in continuous quality improvement, and the impact it has on the quality of care for patients and residents across the board," said Vivian Eliopoulos, VCH President, and CEO. "As I look around the room, I know without question that your enthusiasm for quality improvement will inspire others," she added.
Additional speakers included Fiona Dalton (PHC President and CEO), Dr Matthew Chow (President, Doctors of BC), Dr Ahmer Karimuddin (Co-chair, Specialist Services Committee), Dr Chad Kim Sing (Associate Vice President of Medicine, Quality & Safety at VCH), and Dr Janet Kow (Interim Vice President for Pandemic Response and Senior Medical Director, Quality & Safety at PHC).
Three of the graduating physicians presented their QI projects and shared their successes and learnings:
Dr Tasleem Rajan's project in Richmond Hospital is encouraging patients to wear everyday clothes and participate in mobility and functional activities in an effort to improve their physical and mental well-being.
Dr Stephanie Chartier-Plante's project in Vancouver General Hospital is improving post-operative care for liver transplant recipients to reduce ICU length of stay.
Dr Tony Wan's project in St. Paul's Hospital is developing a standardized pathway that directs deep vein thrombosis patients from emergency and radiology departments to the Thrombosis Clinic, in an effort to reduce the number of emergency visits. 
Interested in QI? Here's how to get involved
There are three levels of QI training opportunities available for physicians across the province that range from 5 hours to 10 months. Learn more on the PQI webpage. Learn more about PQI in VCH & PHC.
Physician Quality Improvement is a flagship provincial initiative of the Specialist Services Committee that is partnering with BC health authorities to provide training and support to physicians through technical resources and expertise to lead quality improvement projects ultimately improving the delivery of patient care.