Spotlight on a Specialist – Dr Leena Jain
Posted on Sep 30, 2019
For Dr Leena Jain, a geriatrician at Fraser Health, becoming a doctor was like continuing her family legacy since her grandfather, father, both her siblings and her husband are all physicians. "My father never pushed me to become a doctor, but I saw the gratification in his eyes when he helped patients – they were so thankful to have been treated by him."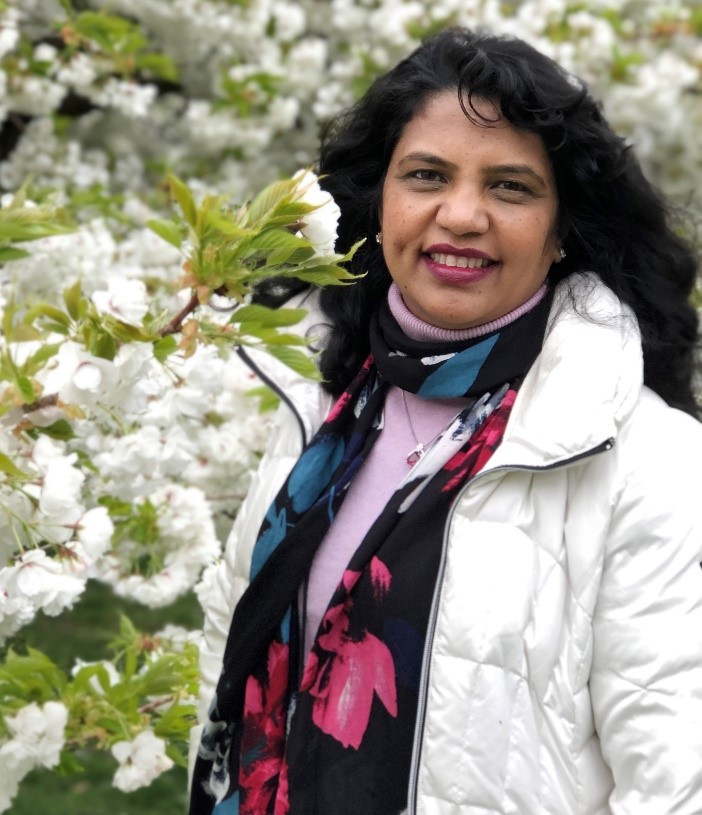 Dr Jain was born and raised in India and studied there to become an ophthalmologist. When she married a Canadian, the couple wanted to work in Canada, but in the mid-1990s it was difficult to immigrate as foreign doctors. Instead, they decided to live in Chicago and continue their education, career progress and start a family. During this time, Dr Jain took a residency in Internal Medicine and also completed a fellowship in geriatrics. She loved it and was named one of the top fellows in geriatrics.
At the end of 2002, Dr Jain and her husband moved to Canada along with their two, and soon to be three, children. She received two job offers, one in Victoria and another with Fraser Health in New Westminster. She chose the latter and still feels grateful to live in such a beautiful and diverse community.
Being in the South Asian community herself, Dr Jain noticed there was a lack of culturally sensitive information, diagnostic tools and resources on Dementia. Dr Jain noted, "given that dementia is often assigned to 'old age' in the South Asian culture, its diagnosis and management is unnecessarily delayed because of lack of awareness and the attached social stigma."
In 2015, in partnership with geriatrician Dr Peter O'Connor, Dr Jain collaborated on a three-year project to develop a Strategy for Enhancing Early Diagnosis and Culturally Sensitive Support and Care of Dementia with funding from the Specialist Services Committee.
"Dementia is like a tsunami because of the large number of baby boomers and the increase in life expectancy. We are living longer with managed diseases. Every third person over the age of 85 is likely to suffer from dementia," she said.
Being able to write and speak in both Punjabi and Hindi languages, Dr Jain ensured clinical tools and resources were translated into culturally appropriate language and health professionals were provided with guided instructions. She also gave educational talks to the South Asian community at temples (Gurdwaras), community centers, and raised awareness on radio and television shows, as well as in local newspapers. In addition, she identified the need for and helped create a South Asian Dementia Helpline at the Alzheimer's Society of BC. Read an article on Dr Jain and Dr O'Connor's joint project on dementia diagnosis and management here. 
Dr Jain continues to find satisfaction in her work with patients and families, noting "it's about the quality of life. At the end of the day, if I end up getting a few hugs and kisses, a few songs and dances, it makes my day. It's very gratifying."
More information on dementia supports
The Alzheimer Society of BC South Asian Dementia Helpline 604-449-5003 is available Monday to Friday from 9am to 4pm.
Fraser Health Authority's external website has a number of translated resources for the South Asian communities, including a webinar, information brochures and booklets to detect early dementia, cope with the disease and learn about available resources, including iCON's Getting to Know Dementia booklet.